Since I read Amy Chua's 'Battle Hymn of the Tiger Mother', I've been very curious and keen on knowing about different parenting styles and stories. Doing what makes your kids smarter… how can you make them achieve more…what gives them enough ammo to annihilate the world and fu**ing rule it! And mind it…the preparation starts right from the time they are in the womb! Coz let's face it, we all want our kids to be stars! Naah…stars is ordinary…we want them to be super stars! Coz normal people cannot be happy, they don't have a right to be happy! Only the star performers, the over achievers & hyper successful ones do, right?! WRONG!!! Grrrrr……*breathing in…breathing out*…Anulom Vilom…Kapalbhati….calming down…Phew!
I wish we, as a generation, were easier on our kids….Anyways! That's a different rant that I'll save for a different day!
Bookchor's Lock the box
Basically I picked 'Shopaholic and Baby' By Sophie Kinsella from Bookchor's 'Lock the box' book fair coz (for some really weird reason) it looked like a book on a shopaholic's parenting style. (Plus, the cover was cute!)
But it turned out to be a total surprise! The book had nothing to do with parenting! (Later I realized that I had seen the movie 'Confessions of Shopaholic' which was based on a previous book of the same series! Of course it has nothing to do with parenting!)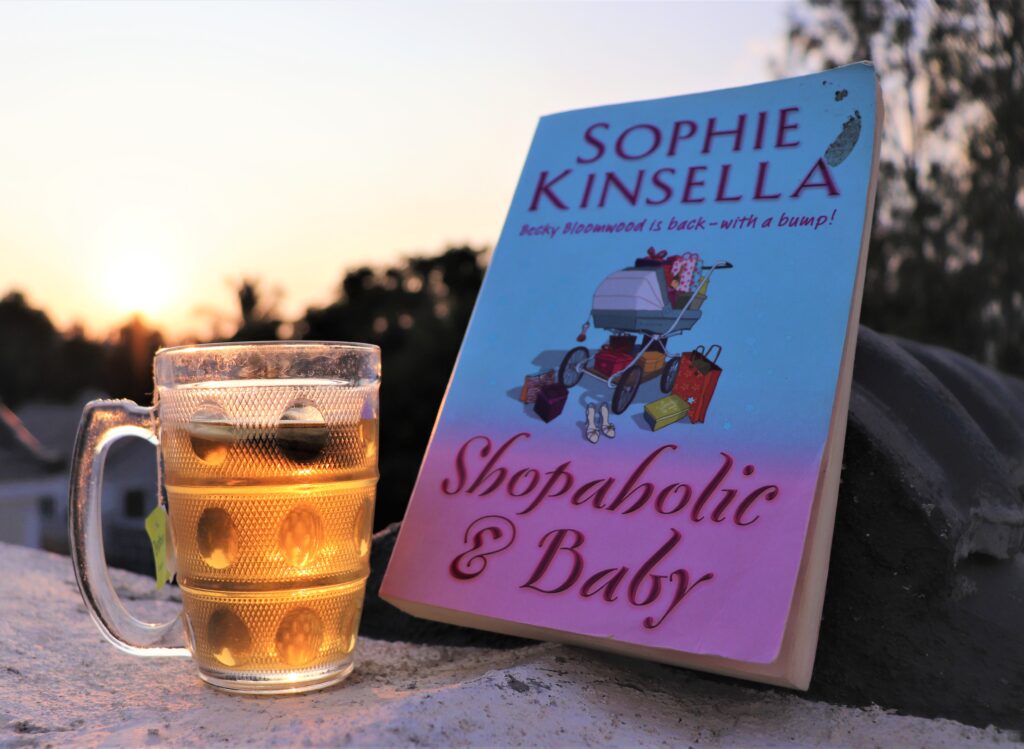 Story
Okay! First things first, while I am a sucker for chick flicks, I am not a chick-lit fan. Just wanted to make sure you know where I am coming from.
Becky Brandon (Nee Bloomwood) is an ex financial journalist, now a personal shopper, married to the love of her life, Luke Brandon, stays in a fancy penthouse in London! Good news, they're pregnant! Becky is busy researching on what to buy for her baby and also house hunting, when she finds out that she is missing out on the big fancy chunk of being pregnant: A celebrity obstetrician! Turns out, Venetia Carter, the obstetrician who all the celebrities go to, for a holistic water births with lotuses and fancy thai massages…. is Luke's ex! And then begins the drama!
Characters
The USP of the book is the personality of the lead character, Becky Brandon! The character is silly, stupid, cute, amusing all at the same time. She's a live wire! Never a dull moment with Becky Brandon! But honestly, it does get predictable after a while.
Then there is Luke Brandon. In this book, Luke is all busy struggling with expanding business, an unreasonably difficult client and Becky's drama! My favorite part about him though, is how charmingly he jumps on Becky's side and salvages the mess she had made or how madly he loves her, with all her flaws, naivety & craziness! (I can absolutely relate to this one! Thank God for making these amazing creatures called men!)
Venetia Carter, the beauty with brains and the angel with a halo, but is she?! Becky has a doubt that Luke and Venetia are up to something…but is she just pregnant, hormonal and delusional…or ABSOLUTELY RIGHT?
Over all the shopaholic's world is created beautifully! Becky's mother, her best friend Suze, her anti consumerist half-sister Jess, her celebrity designer friend Danny and her dream home owner Fabia who promises to sell her the house over a pair of certain branded shoes… it is all very amusing!
Best Part
My favorite part of the book are the letters generously slipped in between the story! Becky's letters to different organisations, companies and people, requesting for crazy things like air miles for the unborn baby or asking some investing firm, if "investing" in some branded hair clip that could be sold as an antique in future is a good idea …steal the show for me! These bizarre letters shows the author's wit and charm along with her background as former financial journalist!
The Bathroom Book
It is actually a luxury to have a book that you can pick up, read as much as you want, put it back… and pick it up whenever to resume reading from where you left! What I mean is….it's putdownable….in a good way!
It is a fun, breezy read with no real rush, unlike the books you just HAVE TO finish ASAP! Plus, it was a pleasant change to read light Rom-com after historical & crime thrillers!
I read most of the book in the bathroom even if it means that I was spending a lot of time in the bathroom! (If you're a mom of two, you would know that bathroom is your safe haven! They disturb you a bit less in there!)
Also, even though the book is a part of shopaholic series, not at any point you feel that you're missing a bit or you've jumped on the bandwagon a little late…which is a great thing! The book is independent even though part of a series.
Verdict
Though the story & plot are not out of the world, it is the way the author presents it that makes it funny and keeps you interested. The pace is a bit slow but does build up to a good climax. I've to confess, there sure were a few tears-in-my-eyes moments as well!
It is actually relative you know, like for sane people the book would be really HILARIOUS! But for someone like yours truly, it got a bit obvious and calculable!
Rating
In one word the book is CUTE! An excellent chick-lit with all the girlie details! If you love shopping, fancy brands, clothes, baby stuff, drama and a whole lot of girlie stuff, you'll like the book! I'd rate the book 3.5/5 for its fun quotient and originality!
Main Take-Away
Not every pregnant woman is hormonal and neurotic…some are just being their regular normal selves! 😛