"Kal se cook aur maid bandh karvade!", he announced. That's it? Really? Just a few random words from his mouth and khel khatam? He added fuel to the fire with, "WE will manage without them!" The word 'We' poked straight through my heart bringing back those terrible memories from last year where 'we' shared the responsibilities; he will take care of Aalia Bhatt while I will be doing the Katrina stuff!  But eventually it was just me who was doing it all because he is 'Busy'…or he is 'working'….or he is 'earning'….and I'm not!! (An old wound! HUH!)
As the storm in my head passes and I come back to my senses…I realize the bugger is right…too many omicron cases in the community, cook and maid work in at least 5 houses each…it is not worth taking a risk. It is a good time to isolate. Talking about sharing responsibilities…the fact remains…he does work/earn so technically I do have more time on hand than him! More I think about it…poor guy has tried to make it as easy as possible for me and he doesn't even expect me to cook! (Unlike Daphne Bridgerton, I literally 'burn' for my kids every time, I make pancakes for them! 😛 ) And he doesn't help with the cleaning but doesn't insist that I do it too! All in all! 'We' should manage. PLUS! The Silver Lining! 😀
Silver Lining
There was this blog I wrote called 'Adultery, Feminism & Gender Equality' back when Supreme Court scrapped the age old law of Adultery.  I did not publish the blog because…may be I was not sure about the content or how people would react to it or I was plain lazy. I  honestly don't remember but when I revisited it after a while, I felt, why did I not publish it?! Mast hai yeh toh! 😛 (I do indulge in self praise once in a while! 😀 ) But now that blog is just…irrelevant! The news, the references, the anecdotes are all obsolete! I tried sending it to a couple of kind souls who generally publish my blogs in their yearly souvenirs but…quoting one of the responses…"Haha.. cursory glance it is very nice and witty…But the target audience is 60+.. they may have a heart attack..😂😂" 😛
So now I have a blog that I think is a fun read but no one is ever going to read! Do you feel my pain? No one's going to read it ever! Never ever! Imagine you have this fun thing and you can't even show it to the world! Okay…that came out wrong! 😛 But it does feel a bit bad! Hence, the silver lining! Last lockdown I so wanted to publish a blog on "5 things that helped me survive the lockdown"…with everything getting normal…the topic became irrelevant! But now!!! With old villian re-entering…I'm gonna find the silver lining!! (That's what I've been doing since a while, nai?) Before it becomes irrelevant again or before my natural sloth takes over….Imma write this real fast fast! 😀
5 Things That Helped Me Survive The Lockdown
While I don't want to over promise and under deliver but these five things were life saving in lockdowns!! I would have gone bonkers cooking and cleaning if not for these precious precious beauties! So, let's get down and dirty!

1. Dishwasher
Ah! You've heard me scream through the roofs about my dishwashing dishtress! 😀  After a couple of months of  Ram & I bought our freedom and brought home this gorgeous 14 places LG Dishwasher! We got it for 55k directly from the LG store coz it was the time when all the dishwashers were out of stock even on amazon! Even for the dishwashing tablets we had to drive half way across the city! Now it's all easy peasy! Order online and you're sorted!
Once you get the dishwasher…you need dishwasher salt (not so often), dishwasher liquid (not if you buy the tablets with the liquid) and most important…the dishwasher tablets…one per cycle! (Gujju in me doesn't let me use the 'half load' option on the dishwasher coz it would use one full tablet anyways! 😛 ) And these things are not exactly cheap too.  You might as well have a maid! But since you don't! This is your best bet! 😛
Okay, it saves a lot of effort…but using it is a bit of effort too! You got to wash/scrub the leftovers from the vessels with water before loading it in.  I find it easier than manual dishwashing but some people feel that if anyways you got to scrub out the leftovers, you might as well scrub it with soap and get it over with! BUT! But the way the vessels come out! All hot and smoky! All squeaky clean! Gowshhhh! It is almost like young Milind Soman coming out of that wooden box in 'Made in India'…you might as well fall in love!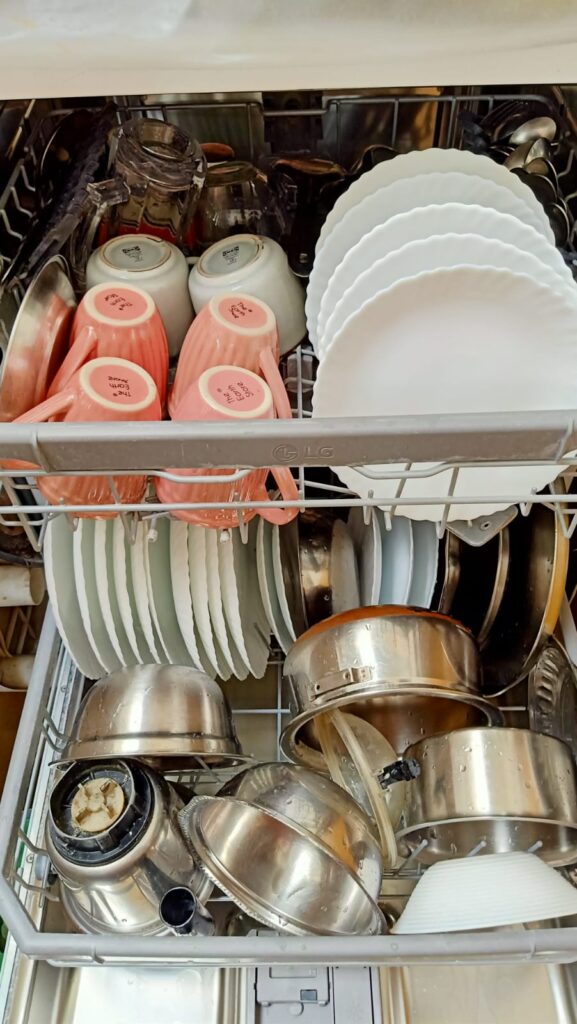 Honestly, once the maid started coming, I stopped using it completely…unless we have a party or guests and there are tons of vessels.  Also, it works like a charm on the crockery, glasses and S.S.! Shiny clean with almost zero water marks! (Non-sticks, knives, wooden spatulas, aluminum & some plastics cannot go in…I learnt it the hard way! 😀 )
Note: We got a big one because we're a family of four, with parents visiting, in 1/1.5 days our dishwasher gets full.  But Ram got an Amazon basics 8 place counter top dishwasher for his parents for 14.5k in sale. Right now you'd get it for 14k in Republic day sale. (But again 😛 They too use one tablet per cycle! 😛 Apologies for my gujjuness! I'd rather have a big one! Oh waittttttttt!! *That's what she said!!!* 😀 😀 😀 Okay Sorry! Back to business! :D)
2.  360 S Robot Vaccum Cleaner
Lazy beings that we are, last lockdown we got this 360 S7 Robot too. This one is a fun thing as well! It has both sweeping and mopping mode.  You just download the app, it maps your house the first time and from next time you can just push the button or turn it on on the app! It would clean the entire house or one particular room, depending on what you select. It has a dust bin where all the dust is collected and you need to empty it in may be 3-5 days depending on how dirty your house gets. And for moping mode, there is a small water tank, you can add water and disinfectant if you wish. You need to attach a small napkin sort of cloth that comes with the cleaner and just switch it on!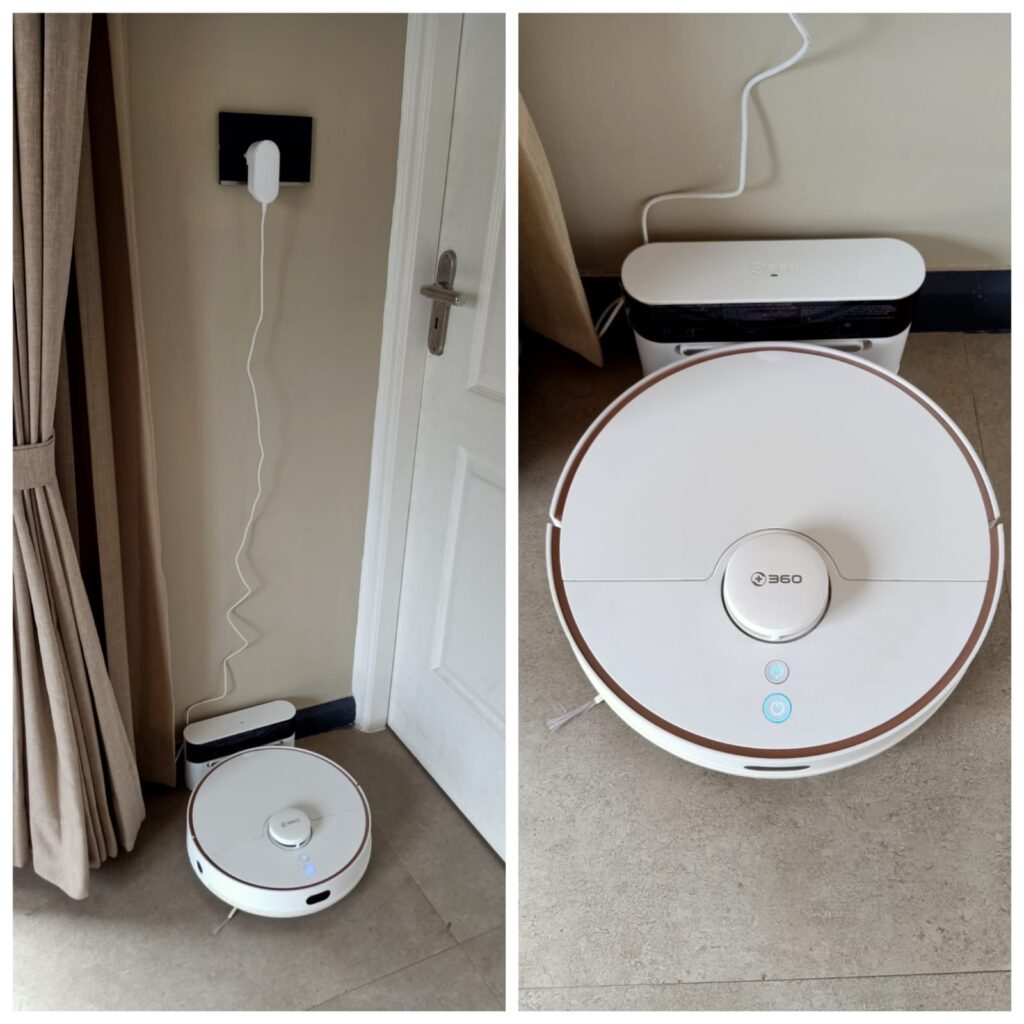 Pros:  Super convenient, doesn't fall off the stairs (it is intelligent enough to go back on its own) and goes to the charging dock for charging whenever low on battery.
Cons: Doesn't reach extreme corners, leaves a bit of water pattern if fan is not on to dry it quickly and you got to hand wash the cloth.
Also, eventually it's a robot! You gotta clear the floors, pick up all the toys, carpets or anything that would be a bit bigger in size that would get stuck in the suction during cleaning. We got it for 35k back then and it is a one time investment! (Now you get it for much cheaper price! 😛 Saved on the dishwasher tablets…spent extra on the robot! Justice prevails!

)
We lovingly call our robot Aalia Bhatt and Dishwasher Katrina Kaif! (What?! You can't blame us! We were lonely! We needed more names in the house!

Plus, Ram got a keeda!

Different than mine, but keeda nonetheless!

 )
Note: Ram also bought a smaller ILIFE robot for 16k for his parents which is similar in function but does not map the house. You cannot instruct it to clean one room specifically…it just goes around cleaning. Also, it comes with a remote while ours did not.
3.  Ganesh Fruit & Vegetable Chopper Slicer Dicer Grater
This is that one product which exactly work like how you see in the infomercials!! I truly cannot tell you what a relief it was to finally get rid of the teary times of chopping those onion!  The number of dishes I make is limited and most require onion and tomato gravies! Plus, it cuts tomatoes, potatoes, apples, cucumbers and bell peppers too! It saves so much of your time and effort and gives uniform pieces! I honestly did not use the other attachments apart from the chopping one! We got it for 650 bucks from Amazon and trust me, it is worth wayyyy more than that!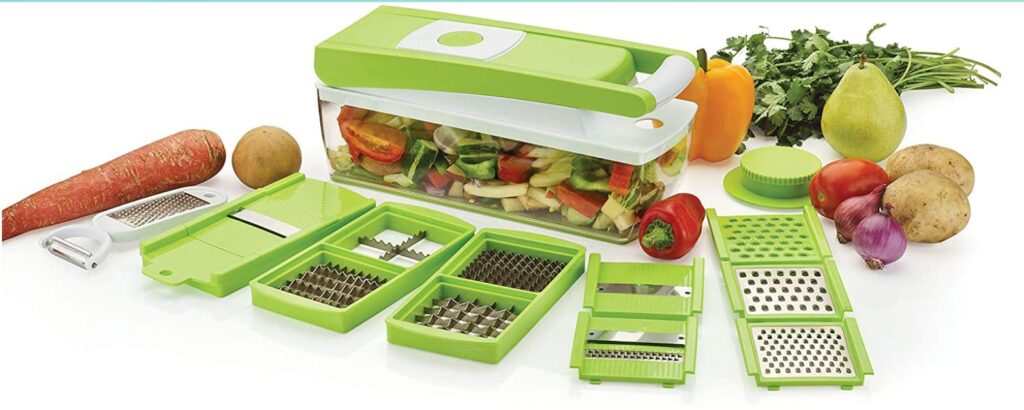 Pro Tip: Cut the tomatoes/potatoes/onion into fours and then put it in the chopper.  Two halves…doesn't work…either gets stuck or you gotta put loads of pressure 😛 Easier and faster to cut smaller pieces!
Note: DO NOT, I say, DO NOT put the lower box in the dishwasher! 😛 Came out all crooked and I had to order a new one! 😛
4.  OPOS
OPOS is the miraculous of them all and guess what…it is 'muft, muft, muft'! (Ah! You too like this one! Don't you!) Let me explain! OPOS is a cooking technique which saves shit loads of time!  When I asked my wonderful friend Arati, who had recently moved to Canada, "How do you manage a job, a kid and cooking/cleaning?", she shared this time/effort/life saving cooking technique!
OPOS = ONE POT ONE SHOT
Basically, all the ingredients goes in one pressure cooker, a few whistles and you're DONE! While it is not as simple…it is truly simple! Umm…How do I explain it? Okay, for example…my paneer butter masala recipe is a bit like this:
Add to the pressure cooker all the ingredients except for Paneer
After three whistles, let it cool and put it in a mixer grinder to make a paste
Add paneer pieces to the paste and bring both to boil & Voila! Your rich and creamy PBM is ready!
The trick here is precise amounts of the ingredients.  There are a lot of OPOS videos on YouTube and I have an OPOS cook book as well! People actually make almost EVERYTHING with OPOS! Be it soups, curries, chutneys, gravies, biryanis, sweets like kaajukatlis/gajar halwas & even dough for rotis for that matter! Just go to YouTube and search for OPOS Paneer Butter Masala and you will find the super simple videos! Like here is another OPOS style of cooking PBM! Go Explore! The world is your OPOSter! 😛
5.  Bombay Shaving Company Facial Razors
Okay, with all the oh-so-important things going around…your trip to the salon is of least priority! Sure, you can survive a few months without a facial or a wax…but after a few weeks…the woman in the mirror would crinkle her nose looking at those bushy eyebrows! 😛  And that is when these facial razors come into the picture!  A pack of four for just Rs. 249!
Ladies, this is a magic wand you desperately need! You can shape your own eyebrows in just a few seconds! Get rid of those extra hair and look all neat without going to a salon! Plus, it helps with upper lips and peach fuzz too! (No, you don't grow hair like men after using facial razors! 😛 )
And trust me, this is so easy and hence addictive! Even after the lockdown was over….I used it just because it is so convenient and comes in handy before a surprise guest visit or a party! 😀
Winding up
Thankfully, while the new variant is highly transmissible, it is not as severe.  I've even heard a few people calling it 'nature's booster dose'! Let's hope we all not just survive but thrive in 2022! Please take care, mask up….eh…you already know the drill! 😀 Till our glorious maids come back home to be our savior…let's just hang in there!

There! I've said it all and shared my list! Now, be a doll and share your lockdown finds too! Will send a bucket load of blessings your way and you promise to send me a few too! Feel free to shoot questions in comment section…relevant or irrelevant is irrelevant, love!