If Oeschinensee were a person, I would sneak out every night just to be with him!
If Oeschinensee were food, I would make my kids go hungry and eat it all by myself!
If Oeschinensee were a dress, I would never ever go to a Chemistry sale again!
You getting the drift or shall I continue?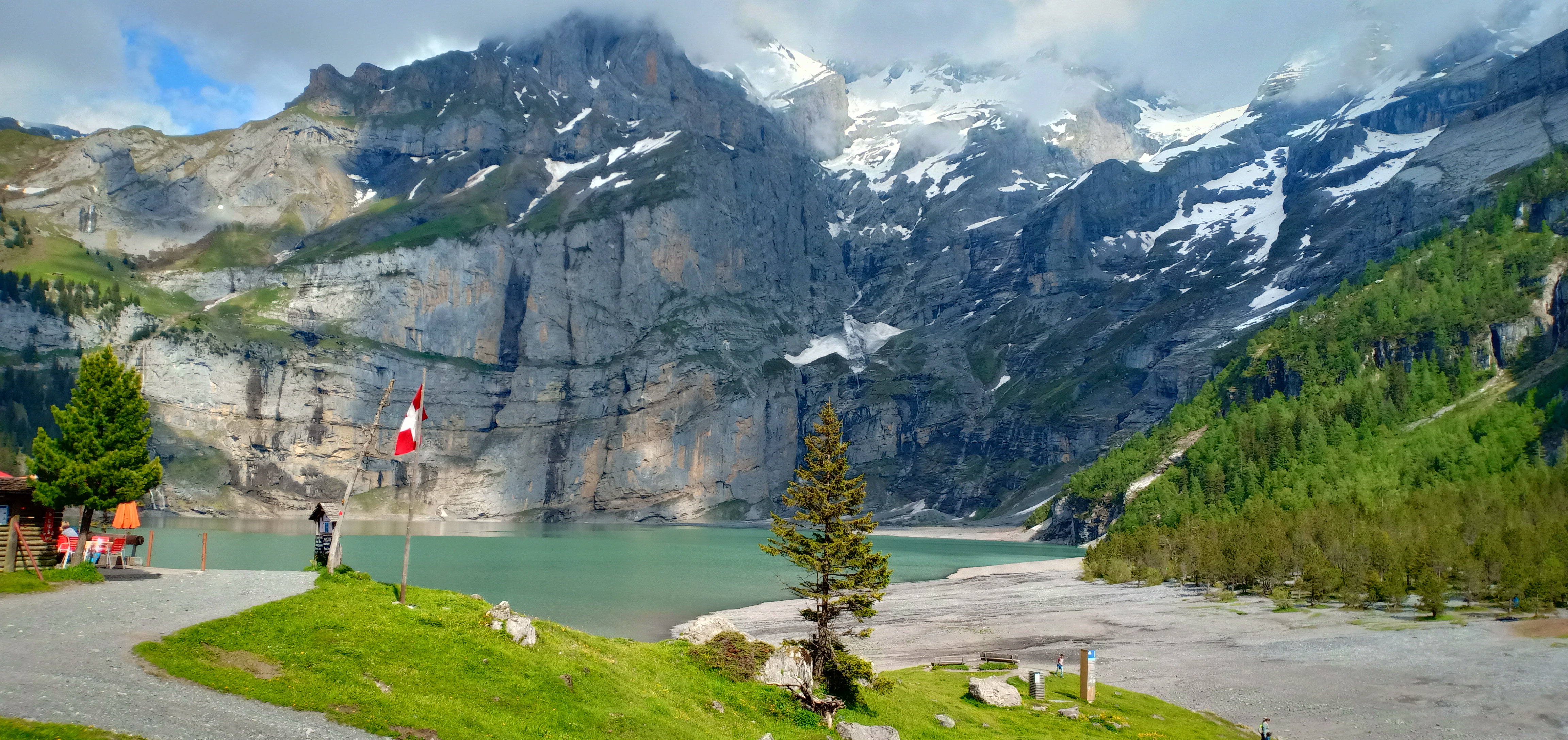 Since we've come back from our half a month Euro-trip,  I've been raving about this paradise of a place called Oeschinensee in Kandersteg!  As I said in Package Tour VS Independent Travel, you will hardly find this place in any of the package tour itineraries (and I secretly hope it remains so!).
When I was doing my research on "Places to visit" in Switzerland, I saw such gorgeous places with exquisite lakes that I desperately wanted to take a dip in blues like that!  (Yup! Self-confessed Aquaphile! 😎 ) I started looking for lakes in Switzerland which are beautiful as well as safe to swim in and that is how I came across this gem called Lake Oeschinen!  More I researched about the place, more I fell in love with it!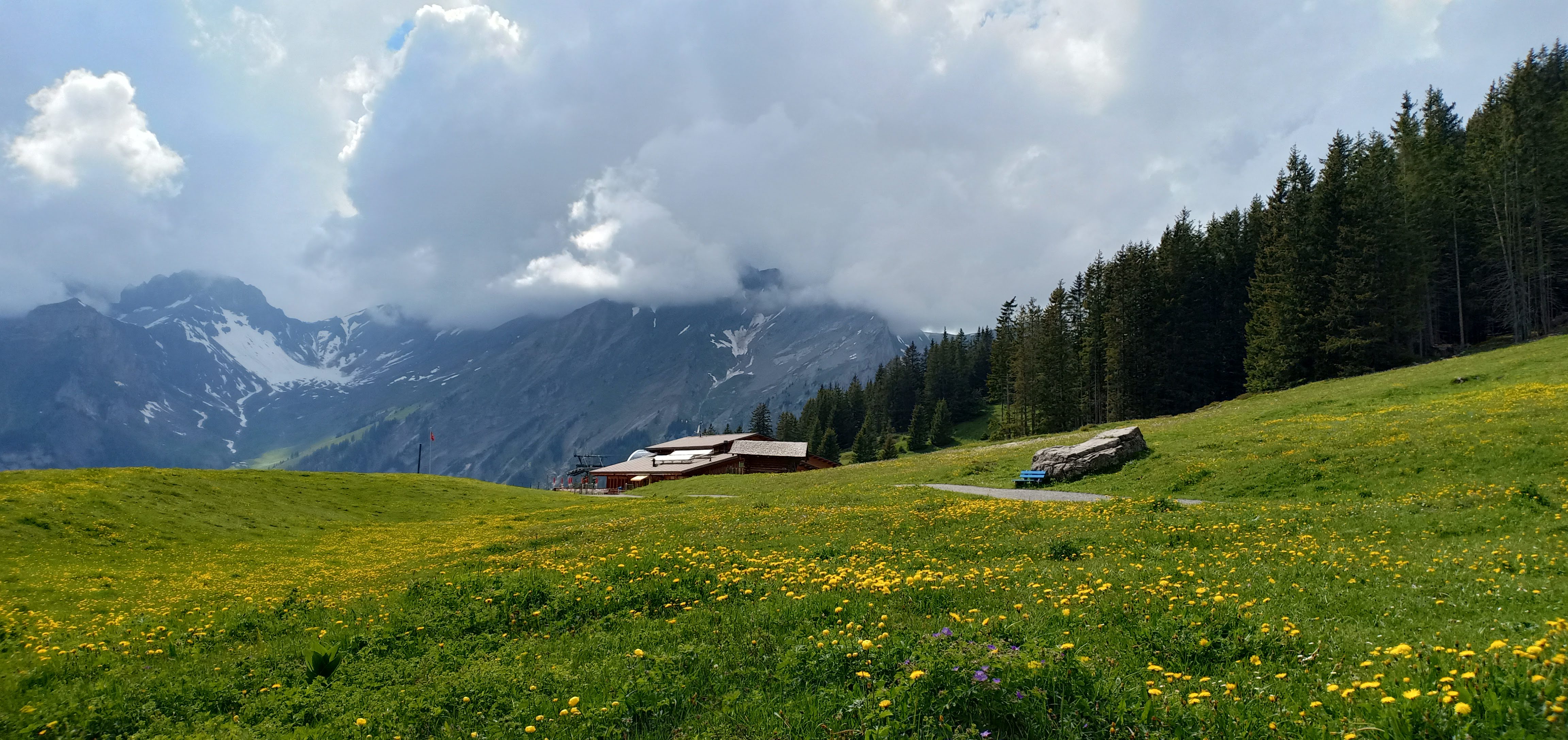 Where is Oeschinensee?
Kandersteg is a village located in Bernese Oberland region of Switzerland.  With myriad of snow peaked mountains, pristine lakes and stunning views everywhere your eyes can travel, Kandersteg is just splendid!  And guess what adds to it's glory? Oeschinensee!  It is 1578 meters above sea level where no car or taxi could take you!
It is a place where the magnificent Blüemlisalp massif form a natural amphitheater with lake Oeschinen as the center stage.  It is a place where the time stays still and all you want to do is NOTHING! Just sit there with a cup of chamomile tea (My new-found love!) and sip in the view!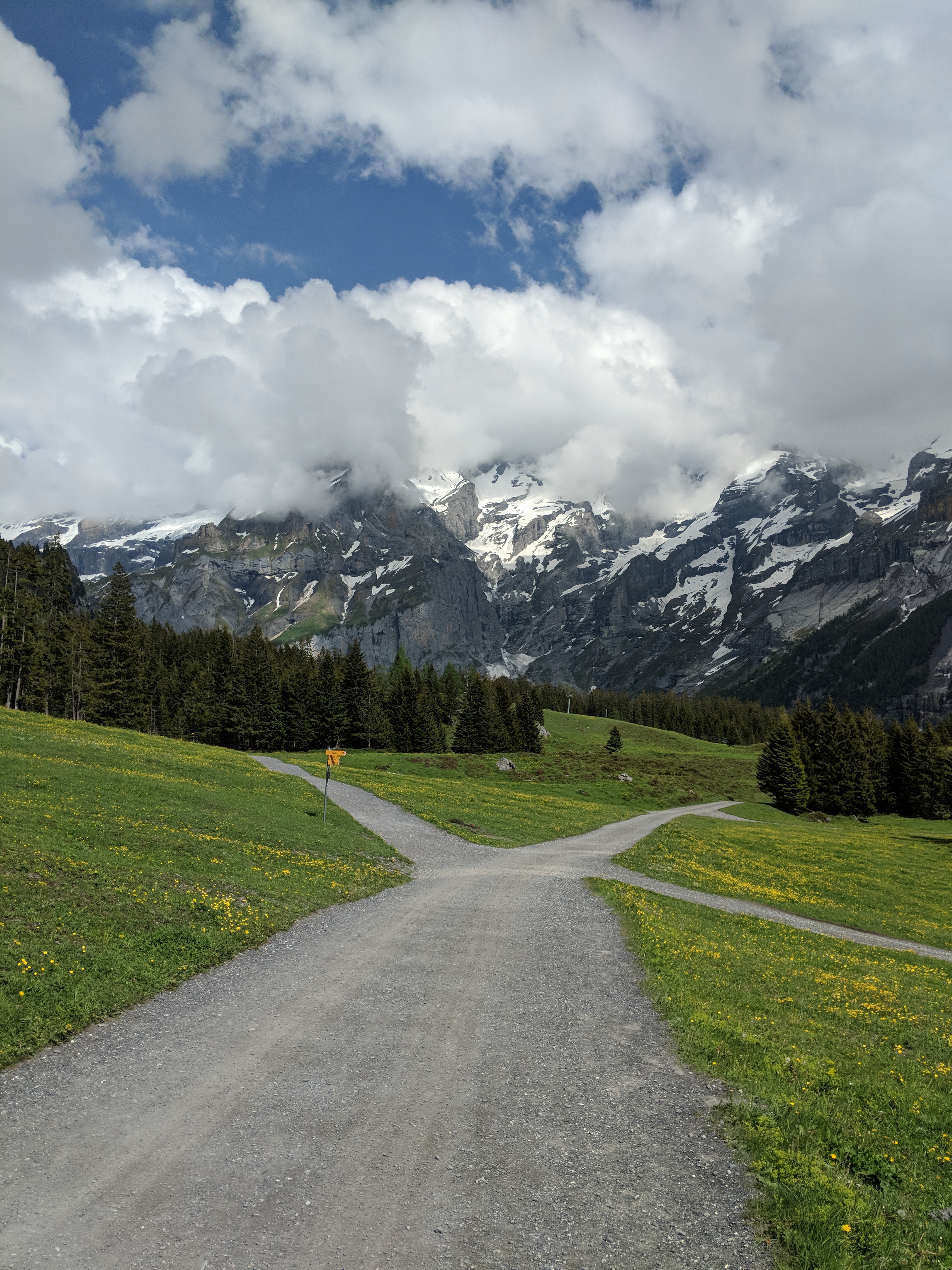 How to reach Oeschinensee?
We rented out a car during our stay in Switzerland so we straight away drove to Kandersteg but if you intend to use public transport, you could take a train to Kandersteg which departs from Bern or Brig every hour.
After reaching Kandersteg, you can take gondola ride to Oeschinensee.  Alternatively, you could also hike your way up to the top! (With two crazy kids to take care of, cable car sounded like a better…nah…more convenient option.)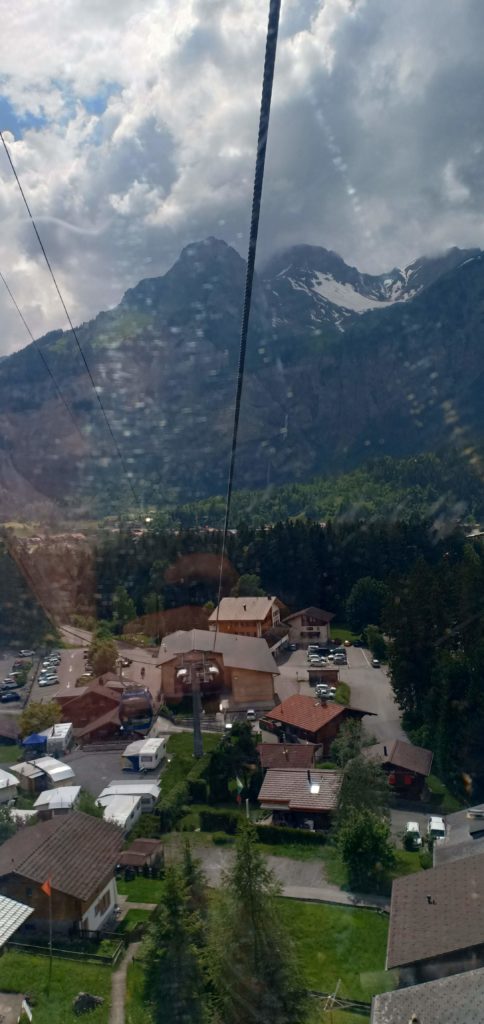 Things to do in Oeschinensee:
When you reach the top, there are many options for you to indulge in.  Like in Summers you could go for Mountain coaster or the Toboggan ride, rent and row the boats in the turquoise waters of Oeschinen lake, go fishing, or have a picnic and get grilling bag on the way too!  Or in Winters, your options would be, Ice fishing, Skiing, Sledding, Ice skating and so on!
Here are a few of my favorite activities to do at Oeschinensee!
1. The Toboggan Ride:
The "Alpine-Slide" as they call it, is one of the most exciting things to do, when in Switzerland!  Sliding through mesmerizing Swiss-Alpine green scenes could be super exciting, plus it is safe for even kids (above 6 years) and elderlies! The ride costs mere 5 Euros per person and they also have fun packages like 35 Euros for 10 rides!  (Oh! How did we manage to miss this! Wait for my ultimate regret list coming right up! 😛 )
This 750 meters ride only works in summers and that too in dry weather conditions. (Nope! That was not the reason for us missing it!)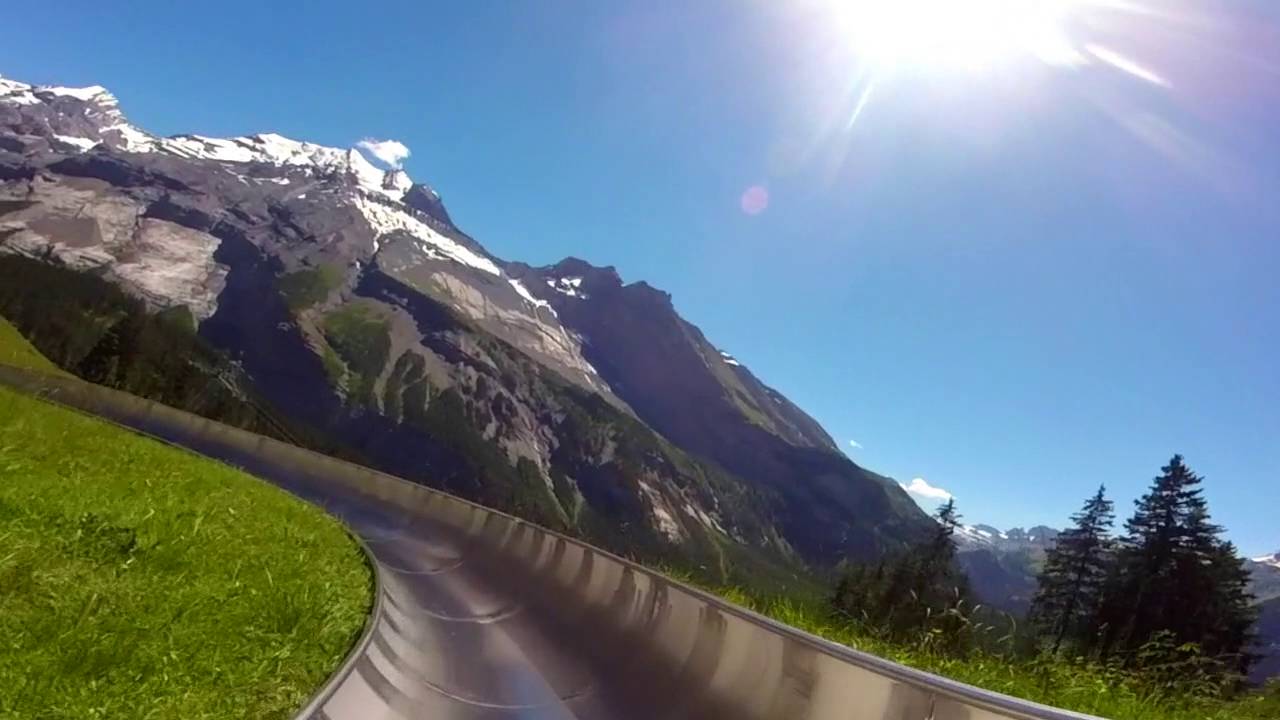 2.  Row your boat!
After reaching the top, the lake is a short walk from the cable car station.  You could also take the electric shuttle to reach the lake for 8 Euros per person, one way.  And then! Rent a boat for 26 Euros per hour or 15 for half and row away to no where!
I absolutely can't imagine how it would feel, sitting in a boat in middle of this beautiful lake, looking up at the snow covered peaks and just be in awe of nature! (Did we do it? NO! One more in the regret list!)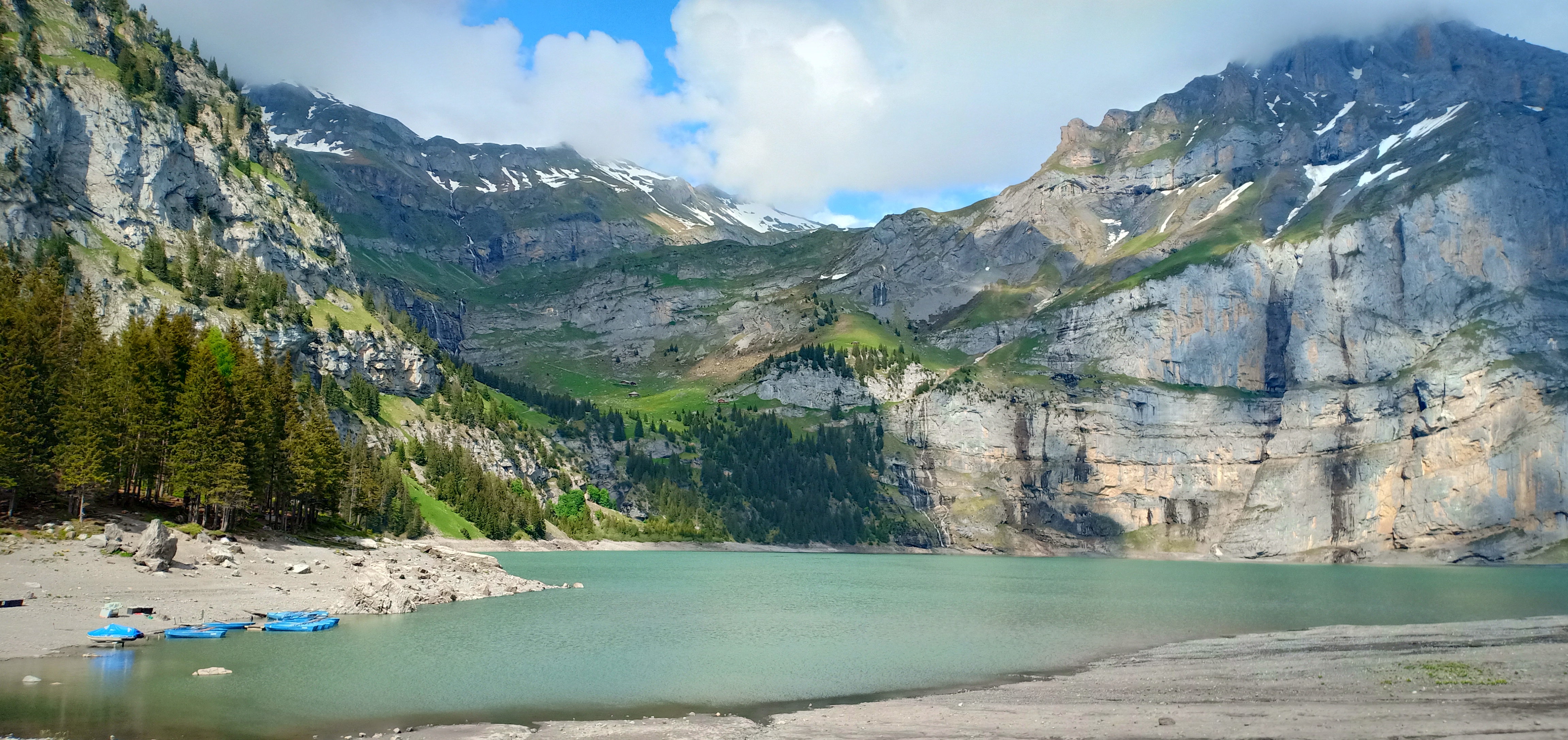 3.  Take a dip!
Man! What wouldn't I give to take a dip in a lake like this!  It was the main reason behind us going there! The lake is just so exquisite! The water would be on a colder side even in summers but DAMN! I am almost teary eyed for not doing this! (Looks like I am already making a regret list right here!)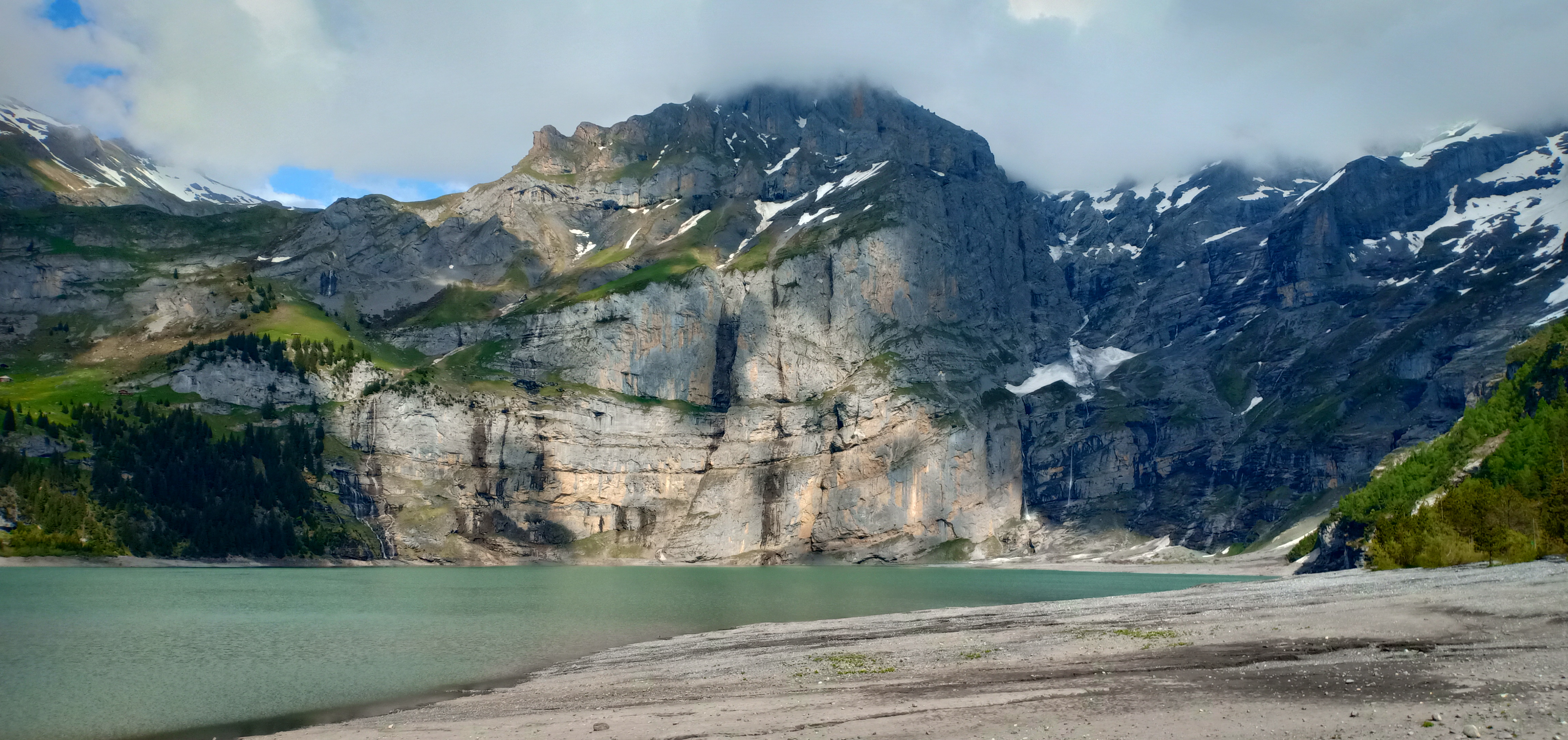 4.  Just laze around
This is one thing we did!  By the time we reached the lake, we were absolutely awestruck with the beauty around.  Like for no reason, all four of us, including our crazy kids, went absolutely quiet.  We just walked towards the lake, randomly picked a rock and settled down under it.  We all ate the burgers we picked from McDonald's on our way to Kandersteg.  (Apparently we did not have to do that!  We did not know that there was a restaurant right there, overlooking the lake!)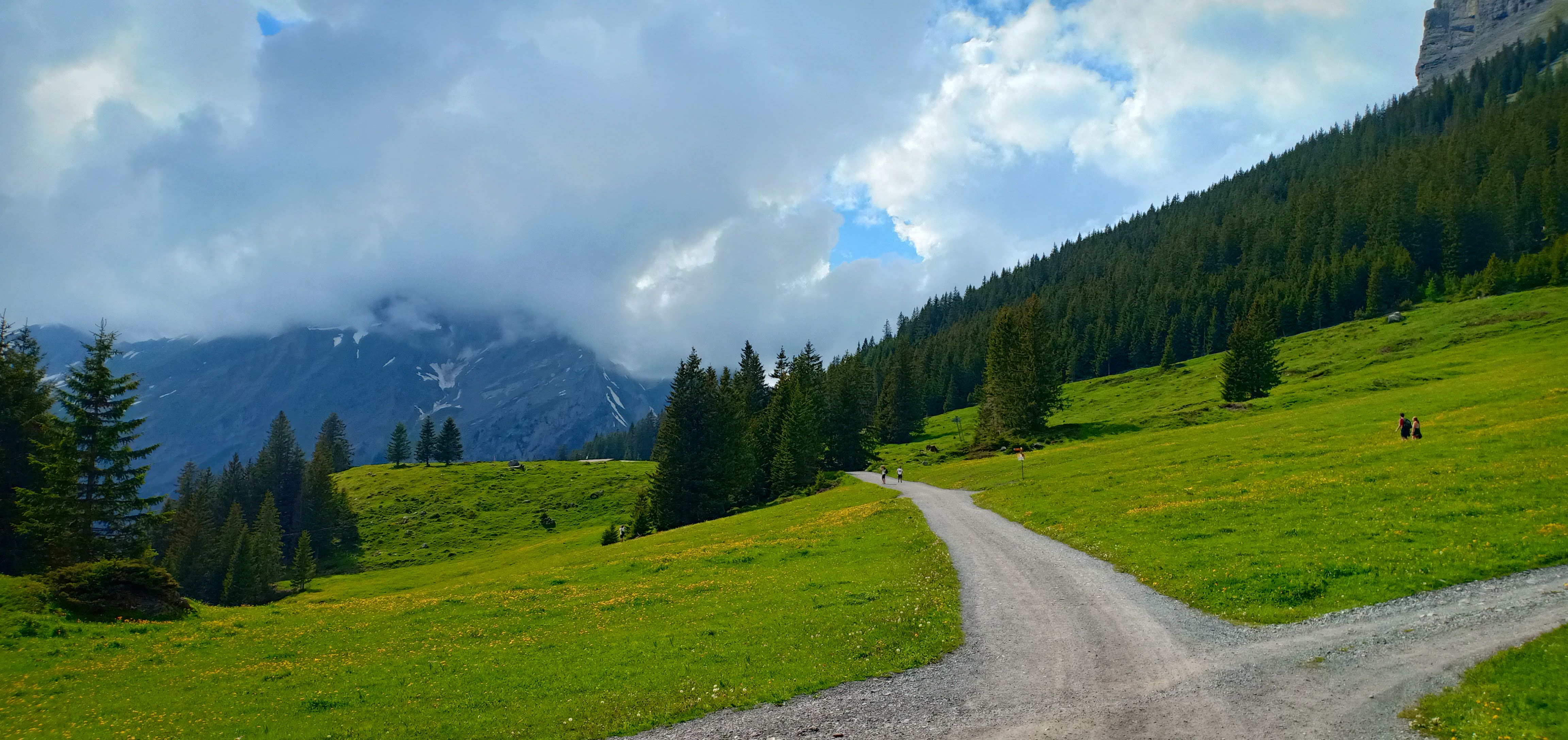 Our Oeschinensee Trip Cost:
Food: 20 Euros
Cable Car Ride: 84 Euros (28 for adults and 14 for kids, return tickets)
Electric Shuttle: 16 (They did not charge for the kids)
Total:  120 Euros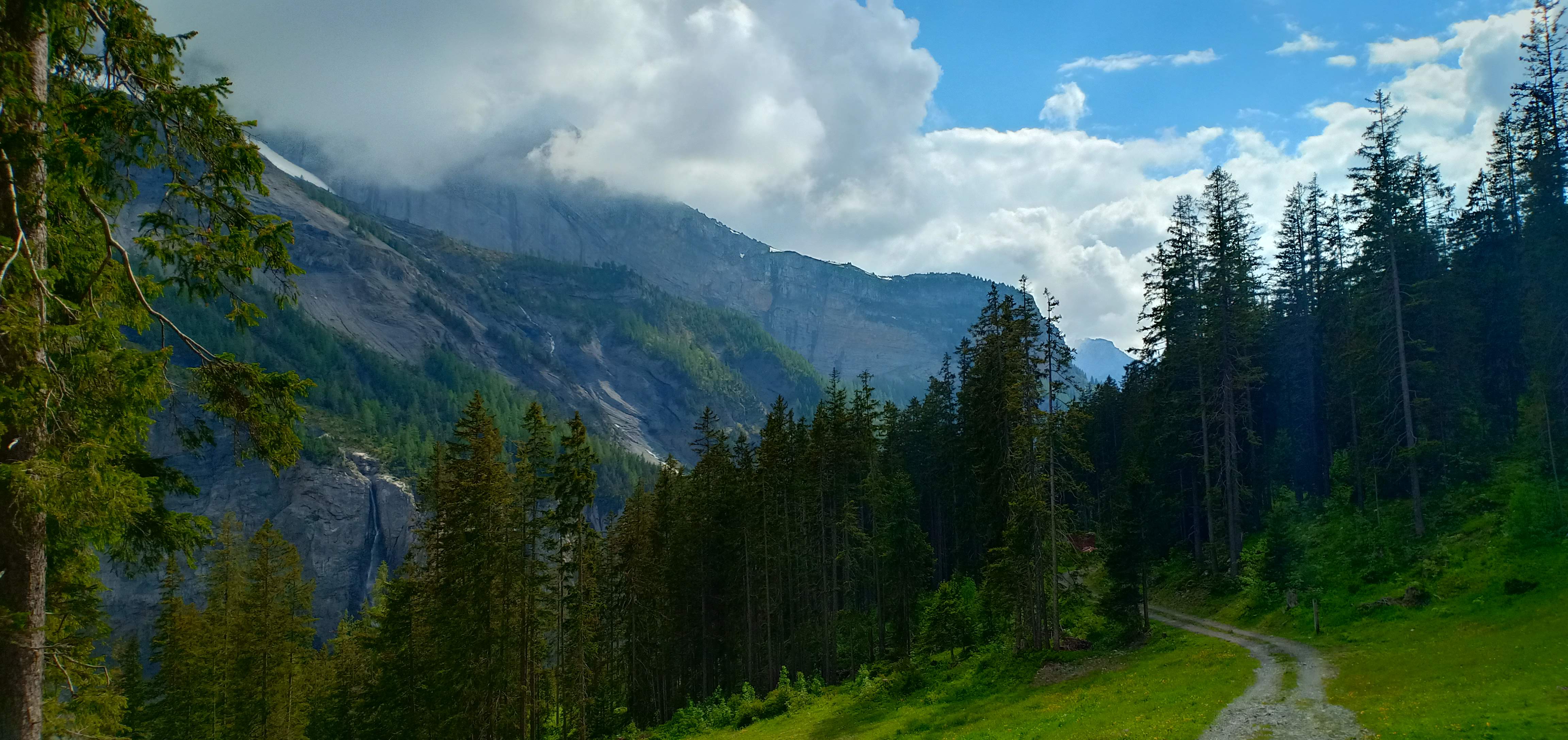 OESCHINENSEE: My Ultimate Regret List!
We have made such expensive mistakes during our Europe trip (I promise to write about that sometime soon!) but nothing hurts as bad as not getting enough time in this paradise!
1. Cooking Maggie on a wood-fired stove!
We woke up pretty late that day since we had just reached Switzerland the previous night and then we decided to make instant noodles for breakfast on wood-fired stove! (Genius me!)  It did taste great but the 2-minutes Maggie killed almost two hours of our time!  We started for Kandersteg at around 12 pm!
2.  Searching for McDonald's
Being a Gujju, I plan my day around food and however yum the Maggie was, you can't call it proper breakfast, right?  So on our way to Kandersteg we killed another hour hunting for McDonald's, since we were not sure if we would find vegetarian food at Kandersteg/Oeschinensee.
3.  Missing the Toboggan Ride
This was one thing that kids and I were equally excited about!  But as soon as we reached Oeschinensee at around 3 pm, the views made us go absolutely crazy! Crazy clicking pictures! (Just like a bunch of Chinese youth with us! In fact though out the trip we noticed, Chinese are as obsessed as us Indians with clicking pictures!)  I won't say it killed our time 'coz it was definitely worth it!  Losing the track of time, we though that we would do it on our way back!
4.  Not taking the electric shuttle while going to the lake
This one is just because of the situation we were in!  We totally loved the 20-25 minutes walk to the lake, it was THE most beautiful walk of our lives!  Dhruvi was not up for walking so Ram had to carry her so taking the shuttle would definitely have saved our time and energy! To do what, you may ask? Just laze around a bit more and gaze around a bit longer at the lake and the views!
5.  Not going for a swim in the lake
As we sat under the rock and had our burgers, I thought of going through the cable car time-table to just make sure of reaching there before it closes.  That's when we realized, the last ride down would be at 5 pm and the time was then was already 4:50!  There was no way we would make it in time but then we just got ourselves up and almost jogged in direction of the station.   And then I felt that urgent need to at least wet my feet in the lake! Touch the unimaginably beautiful water!  I told Ram that I would be back and so he went ahead with the kids.
As I hurriedly walked towards the lake, I saw two skinny teenage girls in their bikinis venturing into the water!  At that point, I was more jealous of their being able to leisurely get into the lake than their slender bodies!  I very quickly dipped my toes and before even I could relish the experience, I had to run back.
6.  Not missing the cable car ride
Yup! You read that right!  While on our walk back to the cable car station, we spotted the electric shuttle and I went and explained our situation to the driver who did not understand English.  But he got the point and asked us to hop in!  We reached the cable car station right in time!  I thanked God big-time for that!
Now after coming back, while I was going through some articles on Oeschinensee, I read that the walk downhill is pretty doable and BEAUTIFUL!  I so wish we had…:P
7.  Not wearing a better outfit!
This might look like the lamest regret on this list but damn! It is SO NOT!  Just imagine how awesome would the pictures come out if I were wearing better clothes! A pretty flowy dress!  That is what I should have worn!
The End:
To sum up on a positive note (after this major crib session), I am so glad that we were able to spend at least a couple of hours at Oeschinensee.  In a way it is great, we promised ourselves to go return again soon and I am pretty sure we will! (umm let's say after five years! 😛 )  This time sans the kids!
It would be a dream to just snuggle up on one of the benches over looking the lake, humming an old melody, getting high on the amazing company, experiencing pure bliss…
So, if you are visiting Switzerland, make sure you visit Oeschinensee in Kandersteg and make sure you don't goof up like us!
A few our personal favorites from the trip!
For rest of of the pictures, check out my Oeschinensee Picture Gallery!
All the pictures are completely raw and unedited 'coz I like them real! (And I am lazy!)