As Mark Gungor puts it, "A man's brain is made of small boxes, a box for job, a box for car… and the rule is that the boxes don't touch! While a woman's brain is made of wires where EVERYTHING is connected to EVERYTHING!" which according to me is pretty accurate! Forget men, sometimes even I don't understand why I did something or said something but in my own defense I have had solid logical reasons to do it!
2018
Last year around same time, we went to Tanishq as my mother wanted to buy a pair of earrings coz she had forgotten to bring one to wear in Bangalore! Folks at Tanishq said that if someone has birth date falling in the same month we could get a discount and Ram happens to be May born. While registering for discount, he also went for the Golden Harvest scheme of Tanishq.
If you are not already aware of the scam…scheme I mean, let me explain it to you! You pay 10 monthly installment and you get 75% of one installment as 11th from Tanishq, with which you could buy whatever you want (Read: whatever you can afford or let's say, barely afford) from Tanishq after 11 months!
This was not the first time we had invested in Golden Harvest. The kind of moronic spend thrifts that we are, it was a great thing for us! To buy something that might actually give us a bit back, something with actual value! But this was long before we had started paying EMIs for the house, car lease and the big one…school fees for two crazy kids that we know for sure, hate studying!
A Month Back
Ever went shopping with kids? Add an uninterested husband to the mix! While Riddh was hating us for eating up his outdoor play time and Dhruvi wanted just to try on everything in the show room, as always, Ram could not get enough of his phone!! Adding to my agony, Colleen just came up with everything thrice our budget! Like, WHY!! Why would do that to me? It was almost like she was mocking me and saying "You like this? Naah…you can't afford it….this one?? Way out of your budget…. Okay, this one is perfect for you….ONLY if you are ready TO SELL YOUR FREAKIN KIDNEYS…YAASS! BOTH!"
All this while I had specifically told her to bring out stuff UNDER ****! (Nay…I am not gonna tell you our budget….you are just going to judge me depending on 'your' financial status! But eventually you'll figure that out anyway, by looking at the stuff I actually bought! 😛 ) So what did I end up buying? Yup! We went home with NOTHING and decided to go again later sometime, sans the kids!
Yesterday
Neither Ram nor I are "wise money-wise" but he kept on reminding me that Tanishq folks are eating up the interest on our money and we should shop soon! So we decided to get it over with, while both the kids were off to school!
Now all my childhood, my mother picked stuff for me, clothes, shoes, accessories, everything! I did have a say but it was mostly her calling the shots! (Confession: I am having a hard time wearing the clothes she gets me now! She still is awesome at picking traditionals….but western is pretty much waste-rn!….Okay! I already am feeling guilty for saying that! Cuz, one, it's really mean of me and two, the word stinks! I mean wtf is "waste-rn!"! Well, that's exactly how a gujju would say "western"! How racist am I! Owwwkay, I'll shut up!) And that morning my mum had just returned to Baroda from a cousin's engagement in Indore, was deep asleep and wouldn't pick up my call!
Well, it was too embarrassing to go to the same Tanishq showroom after eating up so much of their time and not buying anything! I could totally imagine ever-so-polite Colleen giving me blank stares with head slightly tilted and hands folded, upon my entry there!
So now in a different Tanishq showroom, I was like a kid in a candy shop! Jewelry sets, Neck pieces, earrings…checked 'em all out! Jeevitha too showed us a lot of stuff beyond our budget which, Ram says, is a strategy to tempt women into spending more. Now, it's not that I am a woman who can't be tempted…just that I like Ram a lot, preferably with both his kidneys!
Hard Task
After spending a lot of time on looking at things we could not afford, I finally shortlisted three jhumkas (Dome danglers) while frantically trying to reach my mother to help me out! That's when Jeevitha showed me this stunning piece! It was like finding my soulmate! A gorgeous diamond studded platinum ring! And best part was, it was almost in our budget! (lol @ almost!)
But all love stories have a villain and this one did too! IDK from where Ram came up with this bizarre logic! He did not know if platinum was a good thing to buy coz it might get out of fashion and might not have the same value later! At this point, my very tired and sleep deprived mum picked up the phone and then picked the earrings from the pictures I had shared on whatsapp! I told her about the platinum ring but she just wanted me to take the earrings and probably was too tired to explain the reason behind!
Well, it was time for us to rush home to be back in time to receive Dhruvi! While I threw tantrums that I did not want to shop that day….it was a messy situation for Ram. All the paperwork was done and we were standing at the billing counter! As I sulked, Ram said "Let's us buy this one for now and we will talk about it in car!"
A high pitched "Hah!!" for Ram who thought he could just get away with "a talk in car"! 😀
What happened after his was a saga that would even make someone as wise as Mark Gungor bang his head on that exact same statue of the woman's brain that he uses for his demonstrations!
TO BE CONTINUED!
(After my evening Turkish tea that I am so crazily in love with!)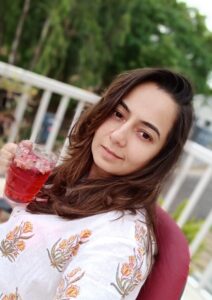 Cheers!
P.S.: No one with such budget constraints could be a "Gold Digger", right?! Well, sometimes I secretly wish I were one! Kidding….not really…I guess we'll never find out!