Okay, so what according to you is an ideal length of a holiday?! Over the years, we've realized that a 3 or 4 days vacay either leaves you wanting for more or plain tired coz of too much travel in too little time, OR BOTH! The ideal duration of a vacation should be such that it will make you 'want' to go home! It should be so rejuvenating that you get excited about going back to work, back to the grind! So according to me, that sweet spot is one week!

(We can afford it only coz of the membership with a certain holiday companies, otherwise even 5k per night would be a wayyy too much for a 7 days vacay!

On second thought, its almost the same amount that we pay as annual subscription fee! Just psychological bullshit that you don't have to pay when you stay! 😛 )
Now, the best part about staying for a week or more is that you are not running around ticking off things from your check list. You can take your own sweet time to laze around, take in the views at leisure, go do local, off beat stuff and so on! The only downside is: staying in confined spaces with same number of people for a long duration, is like staying in a Big Boss house! One tends to get agitated, irritated and there's a 99.99% chance of an argument or a full fledged fight!

And I think, that is what happened in Munnar towards the end of the holiday…it was just a ticking bomb, at some point, someone had to snap!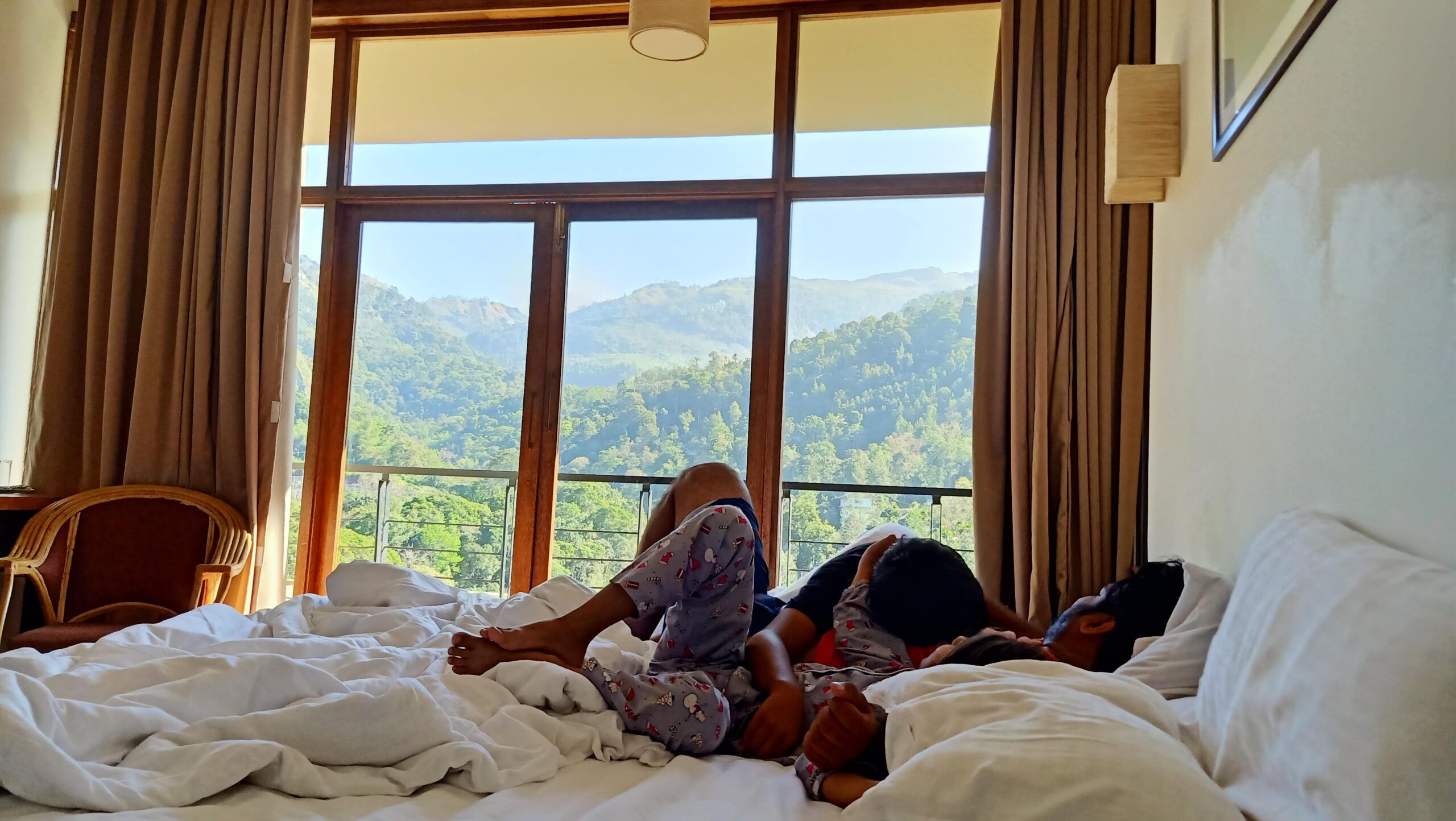 Next to Next Day After The Trek
We spent Day 4 & Day 5 relaxing and recuperating post hike, as mentioned in Munnar Diaries Part I! Now it was Day 6! We literally had 2 more days before we had to check out! While Ram is totally cool with doing nothing through out the trip, I most definitely have a few things on my list! For Day 6, I wanted to visit a view point called 'Top Station' which is at an elevation 1,880 meters or 6,170 ft! I had read some really good reviews on Google and I HAD TO do it!

Previous night we had planned to wake up early and start for the view point since it was 34 odd kilometers from where we were staying! Now 34 kilometers on a straight road would be easy-peasy but driving on crazy curvy hill-station roads would be almost a 3 hour drive! Hence, starting early was the only option!
Do You Even Love Me?
As planned, I wake up early, take a shower (which is btw, something I hate to do in the mornings) and start getting dressed up! Now, groggy Ram wakes up to tell me that "I still have bad leg pain and couldn't sleep last night so we cannot go out today!" I probably would have been cool with it…But may be, just may be coz of what I call 'The-Big-Boss-House-Effect', I WAS PISSED in my head yet I played it cool coz I could see Ram was truly in pain. But then where do I bloody spew the venom which was almost on my tongue!?

Now, I'm no Bhagwaan Neelkanth Mahadev, so I very sternly yet politely spat it out, "Pehle bolna chahiye tha na…I could have slept some more! I even took a shower!" THAT WAS A DEALBREAKER!

I thought he would take it easy like he normally does and let it go…BUT NOPE! Zap came the reply…"Sometimes I really wonder…do you even love me? How can you be so insensitive! I was up all night massaging my own legs and dipping them in hot water!" Offended, I replied, "How would I know? You should have woken me up…"…And that sweetheart, is how it started….



Body Of An Argument
So initially you stick to the main argument, who did what, what was wrong, who was wrong and stuff like that. For that you would need logic and reasoning…so you would pick a precise ammunition from your armory and fire. But after a while…logic and reason goes outta window and then it is pure CHAOS! Jo haath me aaye uthaao and pheko! Say whatever you want, bring up random-est of issues from past just to prove your point better or for absolutely no reason at all!
So within no time, it escalated and we were talking about absolutely crazy/bizarre problems that we don't even have! Out of no where, I heard, "…THEN you will know how it feels, when I have a female friend who is very close to me!" GOWSHHH

See while fighting we're all aggressive but sometimes when something like this happens…it becomes amusing! KUCH BHI unrelated baatein bol raha tha! 😛 After so many years of being together and squabbling, you generally realize a person's squabbling style.

Like with Ram, I know that when he is really pissed, he will would go crazy lengths just to piss me off more. Say things that would annoy me more, just to make me crack!

(Here cracking  = One of these three things; getting hurt and sobbing, getting pissed and stop talking or getting so angry as to throwing things! (Like, pillows & news papers, as I mentioned before!)

Which would eventually lead to some kind of conclusion…mostly him coming and pestering me to hug it out or in rare case scenario…. when I'm wrong…me saying a sorry! 😀
So now, when he says something really bizarre, just because I know this pattern, it starts getting amusing for me! So instinctively, I started stroking his back just to cooling him down coz eventually I knew it was my fault and I shouldn't have said what I said! It was totally uncool of me! So apologized and then again he said something logical and relevant to the fresh fight and it pissed me off AGAIN!

Pity Party
After the war of words, Ram slept and I was too pissed to do anything! So I take the kids and storm off to lunch. And then it happened…like it always does….Like, one moment you're thinking, "God, I'm so blessed to have this life, Thank you! You've been so kind! Just thrilled to be me!" and the next, "WTF is wrong with me? Why is my life so ducked up? I should have done better!" 😛 (I wasn't kidding when I said I've zero balance in life! It's either 'I'm the luckiest b*tch alive' or 'How ducked up am I!' There's no in between! 😛
While I ate, looking at that beautiful stream…it was all coming to me…What have I done with my life? Why wouldn't Ram listen to me and work on his fitness! I'm compromising the quality of my life just because he wouldn't workout and eat right! Why should I have to be anchored to the shore coz of him, huh?! (Honey, you're wrong if you thought I would be any less dramatic!

) And furious, I went on and on…
…while Ram upstairs was taking a shower and getting ready to take us all out!

Happy Beginnings!
It is absolutely adorbs how he goes out of his way to make me happy!

By the time I went up, he was all decked up and smiling! After a few, 'That was wrong', 'That was mean' and a few cuddles we were all set to go out! (It is so amusing that there is no need of 'I didn't mean it' anymore! You just know…) By then, it was too late to go to Top Station so we decided to go to Matupetty Dam for Boating/Jet Skiing! Only sad part was…Ram was limping as he walked….(I know I knowwww!! I'm a terrible person!

But in my defense, we just had two days and too much to do! After all, Pain is just a frame of mind! (It's not!

)    It would anyways go away in a day or two! (It didn't!)

)

Matupetty Dam
We were worried that we wouldn't get chance to do boating but fortunately, made it in time!  Kids got really excited just looking at the Jet Ski! We had our fingers crossed as we descended a long flight of stairs made of uneven stones to reach the lake! Due to the pain in Ram's legs, he excused himself and stayed up in the parking while I took kids down for jet skiing!
So first, Riddh goes for his turn at jet skiing and gowsh, we could hear the excitement in his screams! While this was going on…I see Ram slowly coming down the stairs too!

It was too sweet a moment to see him go through such pain to be with us…but my mind is such a monkey, it just doesn't stop bullshitting! Coz the only thing ringing in my head was…..in the exact same tone…"Langda Tyagi Bahubali! Bahubali! Langda Tyagi…."


(Gowsh! I know I suck!

)
He said, he couldn't miss looking at our happy faces so he had to come down! 🙂 (Did I tell you how amazing men are as a species?

) Then it was Dhruvi's turn on the jet ski! I was pleasantly surprised that she was so chilled out during the entire ride, not even a tiny bit scared! Now, I was shying away from taking my turn coz I thought how stupid it would be for an adult to be screaming like a kid while skiing!

But Ram pushed me and I was glad that he did coz I absolutely loved it!

(And I screamed like a kid too!

)
(After reading this blog, Ram goes, "Yeh sahi hai…mere fitness level pe aadha blog likh diya and when I do something nice…credit goes to the ENTIRE SPECIES?!"

)
Speed boating
After Jet skiing, kids wanted to go peddle boating! Sadly, they did not accept Gpay so we couldn't do it! We thought of going for speed boating coz the views from the water would be stunning! The speed boating point was a short 5 minutes drive from that location. By the time we reached, it almost got closed and we were the last people to step in! Thrilled to have made it in time, we rushed to the ticket booth and then the guy said, Gpay didn't work there as well!

(Lesson learnt the hard way, always carry cash while going to places where network would be a problem!) Running short of options, we picked the only option available at that time….go home!

Top Station
This was the day we were supposed to check out from Karma and check into Club Mahindra just for one last night in Munnar! I could easily have given Top station a miss because we didn't have enough time but by now Ram had accepted the challenge of ticking things off my list! So early morning 9 am we start for Top Station! It was quite a long drive and after we reached there, we realized, it was a bloody cloudy day! There would be no views except for the foggy greens! 😛
But as I said, when life gives you lemons squeeze the hell outta them…! We took tickets to a private view point and had the breakfast we carried on the rocks, at a random spot on the mountain! (It was Puri-subji again, wanting to repeat the hiking experience)! Unfortunately, to reach the view point we had to take a difficult and very long series of stairs down and up again!

Poor Ram!

Eventually we did have a lot of fun; had a breakfast with a view again, clicked a lot of pictures/made videos, cuddled a lot with kids and hung out with clouds for a while!
Club Mahindra
Now, during our entire stay at Karma, we craved for a buffet as I said in Munnar Diaries Part I! So just for the food galore, we checked into Club Mahindra for the last night so that kids (& Ram

) could go crazy with food options!

And as we checked in, we realized the sweet pleasures of staying at a smaller property! Here, just the walk from the room to restaurant was good enough to burn all the calories you just consumed for the meal! Especially the walk after a meal was sooooo agonizing!

Interestingly, the bill at Club Mahindra just for one day was more than half of what we paid at Karma for our entire 7 days stay!

All in all, it was an experience 100% worth the amount we spent! As now we had no regrets of not getting booking with Club Mahindra!

Club Mahindra, Munnar
Regrets!
The actual regret was this:  Munnar has the longest ducking zipline in entire India! I realized it when we saw the billboards on our way home!! THIS SHIT HURTS, okay?!

So, here we are, planning another trip to Munnar! (may be after a couple of years

) Doing lazy peddle boating at the beautiful Kundala lake that we saw on our way to Top Station, going on 1800 meter long zipline and finally, taking that lazy stroll again, right to our spot, our stream…and sitting there again…talking about everything and nothing at all….:)
Local shopping from Ripples! I'm self proclaimed green tea connoisseur and absolutely loved adding these to my collection! Got some award winning white tea too, which apparently has more benefits than green!

Winding up!
I always felt people who stay on the hills/mountains are lucky since they've this beautiful view 24×7! But when you stay there for a while, you feel their problems! Same 10 km drive would take triple the time compared to cities! And more than that, you get used to the view! Isn't it funny, we value things only when it's rare! By the end of trip, I wasn't exactly bored of the view but got just too used to it, like people staying on the hills! 🙂
It was a pleasure to see straight roads after driving on curvy slopes of Munnar for more than a week! It was a trip we absolutely loved!

 (May be a little more than Our Kumarakom Trip.) Makes me all warm and fuzzy even thinking/writing/talking about it!

 Needless to say, we came home all happy & rejuvenated! After 8 days in that green paradise, what Riddh said the moment we entered home was so funny and true…"It's like we never left home!"  Home is where we belonged and gladly so! 🙂
Note: If planning to go to Munnar, buzz me and I'll share Samy Jee's number! That trek, you gotta do, hon! :*
P.S.: Ram took almost 2-3 days to recover, after reaching Bangalore! 😀 Also, he was totally excited for doing the transition videos! Still learning the art but do check the video out n lemme know how you like it!