I was actually searching for classy version of 'Roti, Kapda aur Makaan' but this title does not sound classy either!🤨 'Roti, kapda aur makaan' is such a middle class blog title to make a come back with, right? Umm…now that I think about it…it does have a desi-classy feel to it! Almost like, Javed Akhtar about to say something intensely profound…after saying it! And while it's extremely unlike me, I'm gonna talk some profound stuff as well towards the end of this blog! (Gotcha! Except…I didn't! :P)
Well, finally after 13 years of marriage we have all the three; Cupcakes, Couture & Casa aka Roti, Kapda aur Makaan!  The experience was HUGE! I won't say good or bad but damn! We learnt A LOT! Hence this blog!
Roti, Kapda aur *Makaan*
I've previously mentioned in my blogs that our house was under construction and it took almost 3 years for us to finally make it in!  It looked like a distant dream to actually move in! All those interior plans, color palates, 3D views…it took us a while to actually believe that it is all real!
We moved in a couple of months back and it is just so beautiful to be in your own space! Finally a place you can call your own where you don't have to take the landlord's permission to drill a nail in! I feel, more than a piece of land, it is the piece of sky that you own; I cannot tell you how beautiful it is to finally lie down on the terrace and do cloud gazing! (We had to literally pick a place almost outside of Bengaluru to be able to afford it! Interestingly, distance from the city doesn't matter anymore due to WFH & SFH! (School from home I mean!)
Well, there are some things we would have done differently and some that we wouldn't change at all! Get ready for some KT coz I'm gonna tell you 3 huge learnings that you could take from me absolutely 'muft, muft, muft'! 😀 (The Gujju in me almost got a little turned on listening to those three magical words!)
1. Pick your Interior Designer and trust her to death!
Well, the best buck we spent on the house was/is getting a designer on board! Make the selection process really, really hard! Put your 100% into research and tear their Instagram/FB page down to bits and see if you like their work! The colors he/she selects, the furniture they pick and the over all feel to the house…does it resonate with you? Make an extremely informed decision and once you do…have 100% faith in them! If they ask you to jump from a multistorey building…just jump! They might have an architectural marvel waiting for you down there to save your life!! Okay…kidding! 😀 But seriously, DO NOT INTERFERE in the decision making! (Unless it either involves a blow to the budget or there is something in the design that you truly loathe!)
And self-awareness is so important man…there are people who are good at selecting stuff and then there are people like me who would turn their home into a rainbow! (What can I say…I'm a colorful woman! 'Rangeeli aurat' sounds so crass man! I should stick with English, nai?!🙈)
THIS is what worked for us! While we may think that we have a good taste…the architect/designer has a holistic view and thanks to my Rockstar architect/designer, the house came out so beautiful! We're loving every minute of staying in the house! (@Nirzari Finesse Designs! I'm gonna do a full blown blog about the 'interiors' experience soon! :D)
Note: Having differences may end in you and your designer resenting each other and eventually who and what will suffer? You and your house! Be wise and choose well!😇
2.  Tripple Ps
Well, since we had got our interiors architect on board early on, they customized almost everything. The tiles, the bathroom fittings, the kitchen, the electrical plans, the paint…so basically the things we were supposed to get along with the house….we had to buy and pay for the labor/fitting as well!!
We believed paying would be the difficult part…but nope! It wasn't! I did not know that 'tomorrow' means day after day after day after tomorrow! It was such a nightmare to follow up with the tiling guy, plumber, electrician, painter and all! So now when you follow up, you got three options, (get) Pissed, Pester or Plead!
After a few of my failed attempts at calling people and asking them to finish the work, I vividly remember Ram telling me, "Dekh, kuch bhi karle but ispe gussa mat karna! Uska bhai local don hai! So, please don't mess with him!" I countered fearlessly, "Toh kya! kaam kaam hota hai! Itna delay koun karta hai!"
And after a while when we were passing in the car and saw the guy…Ram asked him when he was gonna finish the work, he said 'tomorrow'! (like for the 5th time!) Grrrrrr! I couldn't control myself! I snapped big time! And words just naturally came out of my mouth…."Bhaiya, Please bhaiya! Aisa kaise chalega bhaiya! Kitne din hogaye bhaiya!"  (Well, next 5 minutes I had to listen to Ram cracking up like a maniac and mocking me… "Bhaiya please bhaiya! Ab kidhar gaya tera gussa! 😛 )
Basically, pick your strength, what are you good at! I rock 'pleading'!😎 The guy was so embarrassed that he finished the work the same day! 😎
3. Double Bs
This is the next level.  The 'pleading' will cease to work after a certain point and that is when the 'Beer & Biryani' come into the picture! Now who doesn't love food and it's a scientifically proven fact that food makes people happy and happy people are more productive! 'Beer & Biryani' happened a couple of times but it gets funny when they demand for it! 😛
So, if you've seen painting/polishing work…they get this huge spray machine which gives a nice uniform look to the stuff…but if you stay in the room when the machine is on…you will end up with a bad…bad headache! We were feeling terrible about the fact that the painters have no choice but to be in the room and do their work! And sometime later Ram was talking to Ghanshyam jee and was sympathizing that it's so tough to work with the spray machine.  In a very thick Bihari accent, Ghanshyam Jee goes, "Iska to bas doo hi upaay hai! Ya to coke piyo ya to beer…Fir dakaar ke saath poora gas bahar nikal jata hai!" *Hint, Hint* 😀
Well, what do I say, Ghanshyaam jee did have a good dakaar that night! Biryani was with compliments! 😛 Needless to say, they did a great job painting the house! (Nirzari doesn't agree though! 😀 )
P.S.: Damn! The tripple Ps and double Bs sound so cryptic!! No pun is intended here…I swear! Also, I just had an epiphany! If I hadn't spent so much on roti and kapda, we would have had our makaan much sooner! How come we gain wisdom only when it has ended!
Maslow's hierarchy of needs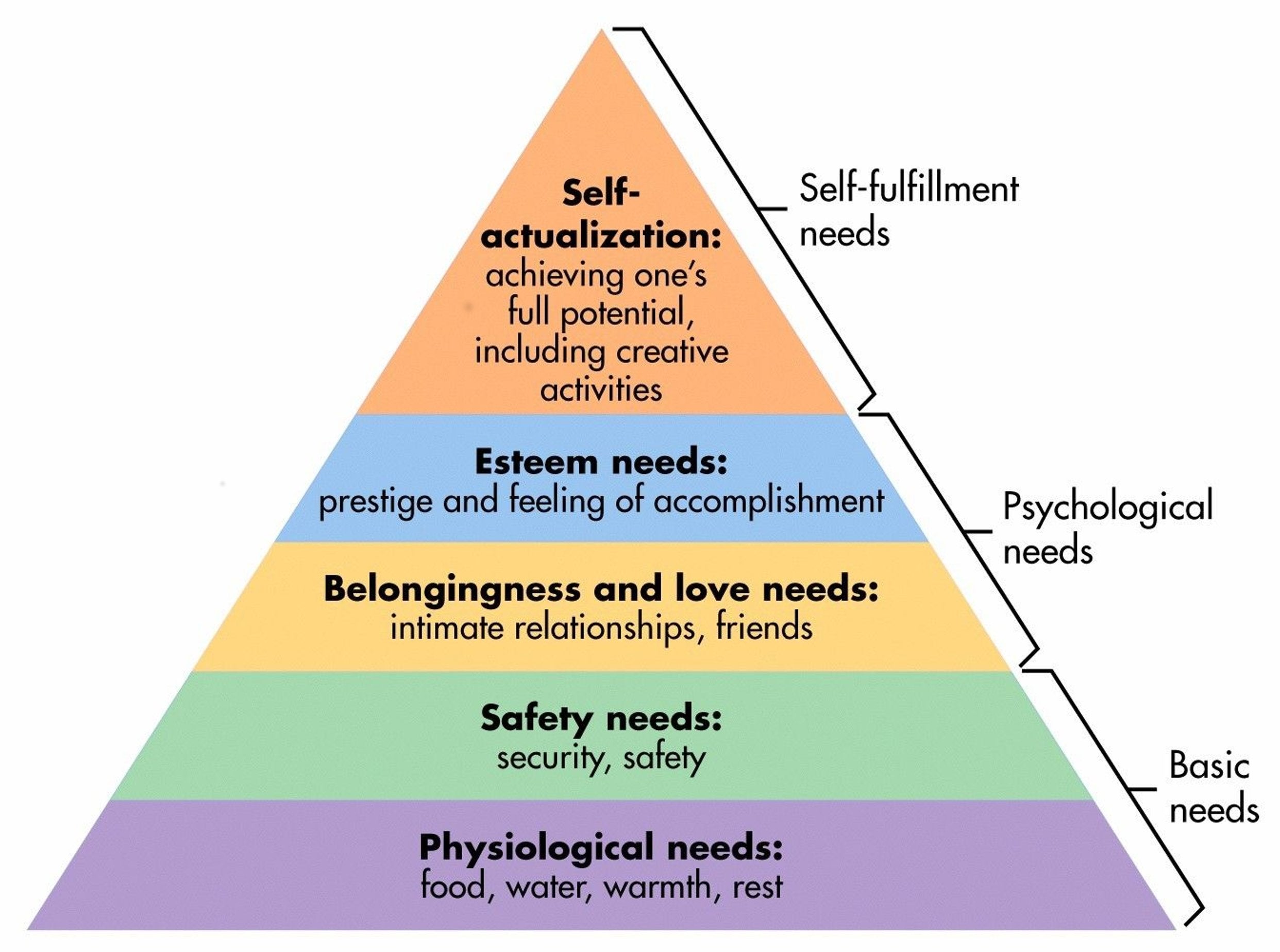 Well, this has been on my mind for such a long time now!  While we were hustling to get our own pad, it just made me wonder how privileged we are to get most of the basics and yet I was waiting to 'settle down'! Don't get me wrong, I was happy in a rented house too…but since we bought this one…the idea of 'settling down' was staying in *this* house! Which is okay…but I put everything on hold for this! EVERYTHING! Unfortunately, even blogging…which in turn is the top triangle in the pyramid of Maslow's hierarchy of needs! Funny, right?
It amazes me beyond measures that there are people who made it to the top even without having the bottom tiers! Like, how do you focus on self actualization/creativity/reaching your true potential when you don't have regular dose of food going in or a roof over your head or do not feel safe/loved/respected?! That is the kind of passion a true human should have! I wish I had that.
What I mean to say here is, I've been foolish…for quite sometime now…please don't wait to make your own mistake and learn from mine! It is not worth wasting the time. Do that thing you love doing, that thing that makes you happy, that thing that makes you, you! And who knows…once you make it to the top triangle…the bottom tiers would just join the scene! (And if you're already doing it…You, sweetheart, are my hero!🧡)
I promise, I'll try my bit to reach for the stars!
Winding Up!
Shoot! That became too serious too fast! But you get the drift, right?
Note: Sweetpea, feel free to ignore the first three advices if you like but not the last one!🧡
Thank You Note!
When I published my last blog, the Yercaud Travelogue on my anniversary, I got a message from an old classmate! And trust me, I feel so terrible in saying that a man other than Ram, made my anniversary so special!💖 😛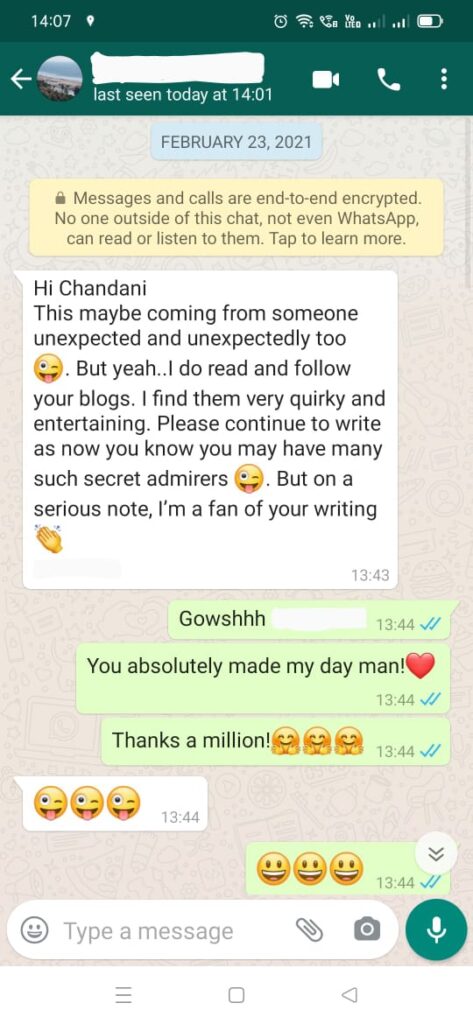 Thank you so much for the wonderful message, bud! It does motivate me to write more! Also, all the messages that said that they missed me and my blogs on my FB page…you just made me feel so awesome! A heartfelt thank you for all the love, folks! I'm working on my shit and promise to get better! 😀
(Today, when I told my mum that I am not able to write often…she went 'Waise bhi mazak jaisa hi to likhti hai', defensively I said, 'I have people who like my blogs, Okay?!' She taunted, 'Ek ka naam bata'! And then, proudly I shared this screenshot with her…within a second, she declared with conviction, 'Peeke baitha hoga…'(He must be drunk!) WTF man!😲 People need to be drunk to like my blogs! 😲 How mean is that! But then I realized that this is what family is for, annoying the duck out of you and also…showing you the mirror! 😛
This picture was clicked during our Vaastu Pooja…back when Ram used to flaunt his dark wavy tresses…coz he finally got a chance to let his hair grow long…thanks to WFH! (Funnily, his parents thought he was growing his hair for a Tirupati mannat! 😛 Now the bugger is sporting bald look and is trying to sell it to me as 'experience with an other man'! 😛 )

Alright! Over to you! What is it that makes you truly happy? What is that you believe is your path to 'self-actualization'? Shoot in the comments section!